The KCR X-11 series is a culmination of research, dedication, and an all out passion to give YOU the angler the absolute best fishing experience period. Insanely lightweight, slim fit all day comfort handle systems, Snagless rapid reduction guides, and hand built craftsmanship you can count on for years to come. My goal when I began building this series was to put together a design that would put a high performance rod in your hands, at a price that wasn't going to destroy your whole fishing $ stash.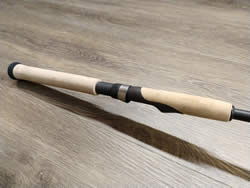 Full Cork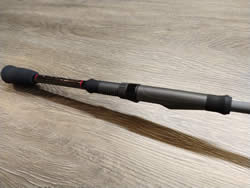 KCR Slim Graphite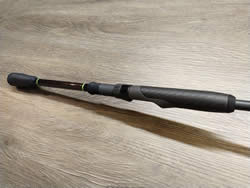 Soft Touch Split Carbon
Take a walk down the fishing isle of your favorite retailer and you will see hundreds of rods from every manufacturer staring at you. They are all adorned with fancy aluminum trim rings up and down the handle, composite cork end caps, neoprene skin handles, reel seats with cool cut out designs, all of it looks so cool right?? Yes, but it is KILLING the rod performance! Metal adds weight, composite cork and neoprene add weight and absorb vibration, the cool cut out reel seats have sharp edges on all sides which will begin to wear on your hand after a couple hours of fishing, and it all adds unnecessary WEIGHT! Once you get your hands on an X-11 your view of what a fishing rod should be will never be the same.